On the day of its first anniversary, the Internet TV brand, which was controlled by Chinese culture, launched a 78-inch curved split LCD TV for commemoration, priced at 39,999 yuan.
Wei Wah, CEO of Micro Whale TV, believes that if pushing a 120-inch TV is unrealistic, the 78-inch is the largest TV size in the home. "We mainly produce according to the order, because the output of the large screen TV panel is small and the price is relatively high". Compared to other 78-inch TVs, this price is already low.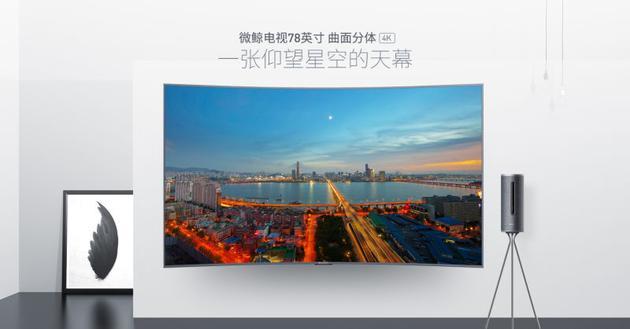 This new whale 78-inch TV product will provide more customized content, including many world-famous big movie TV premieres, NBA and other international hit events, as well as the annual popular variety show represented by "China New Songs".
In terms of hardware, this new product adopts split design, TV host, stereo and subwoofer trinity to create a 360-degree panoramic sound that breaks through the tradition. Unlike other brands, the micro-whale's split TV retains the TV's built-in speakers.
Since its inception in 2015, micro-whales have grown from a few dozen people to 708 people in a year. So far, micro-whales have formed a smart terminal matrix including multi-product lines (TV, micro-projection, VR). Full-family entertainment fronts such as helmets, smart stereos, smart homes, smart TV software systems, and micro-whale-made home-made programs.
VR (Virtual Reality) is a hot spot this year, and micro whales are about to launch VR products. Li Huaiyu revealed that the micro whale VR has cooperated with Google on the hardware. "VR is still based on the long-term, not eager to produce products, more from the brand perspective, not considering the amount of time." Li Huaiyu said.
Different from some Internet TV brands' low-selling practices, the newly-worn whales are expanding into the high-end TV field and expanding into related technology products such as VR. Correspondingly, the sales channels of micro whales are no longer limited to online.
According to data from Avi Cloud (AVC), in the first half of 2016, the proportion of online channel sales revenue in domestic color TVs has increased to 36%, but revenue growth in online channels is slowing. At the same time, to promote high-end, new technology products, can not be separated from the experience of offline channels.
In the end, Li Huaiyu also publicly revealed the view of LeTV's $2 billion acquisition of Vizio. He said that Vizio is only a low-end brand in the US color TV market, and the globalization of micro-whales will also be launched in the near future.
Hartmann & Braun was founded in Germany in 1879, becoming a leading supplier of instrumentation devices by the turn of the century. In the 1920's, Hartmann & Braun expanded its offering to control equipment, and has since become a leading supplier of both instrumentation and control equipment. Hartmann & Braun became part of the ABB product catalog with the aquisition of Elsag Bailey in 1999.
H&B Contronic
Xiamen The Anaswers Trade Co,.LTD , https://www.answersplc.com