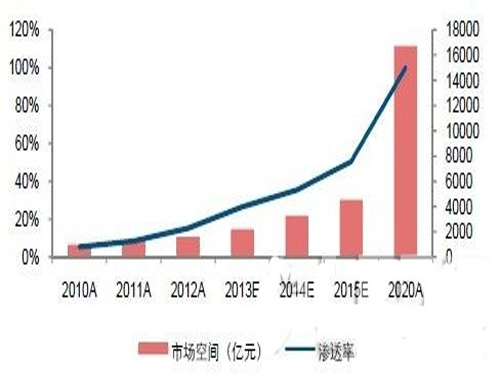 According to the IHS and IEK report, the LED lighting market in this (2015) year will reach US$36.1 billion. By 2019, the market size will grow to US$72.6 billion, and the market penetration rate will be estimated at 48.5%. Among them, the smart lighting of integrated systems, software and services will become the focus of the market.

The 2015 Taiwan Solid-State Lighting International Symposium sponsored by ITRI took place consecutively for 2 days from 3/25. This year invited many famous US and Asian lighting manufacturers and scholars to share the latest technological advances, innovative applications and industries in the solid-state lighting industry. trend.

Liu Junting, director of the Institute of Electronics and Optoelectronics, said that with the improvement of luminous efficiency of LED components, industrial development has moved from technology research and development to system integration and application. Taiwan's LED industry has a strong manufacturing capability and an orderly industrial structure. Therefore, it is possible to rapidly integrate new market opportunities and develop high-value applications. ITRI ​​promotes smart lighting with new technologies and cooperates with schools and industry. We hope to further develop new business models in the future to increase the added value of the LED industry.

In the new LED applications and customized smart lighting design, Everlight (2393) R & D manager Lu Zonglin explained with the automotive lighting, LED industry with the popularity of lighting applications, has been gradually applied to the car; past drivers to determine the danger of passive Safety, if combined with advanced LED technology and electronic technology, can be developed toward active safety smart vehicles.

In addition, Tokyo Skytree lighting designer Heng Haoren also shared how to use energy-saving LED to cut into the new application of urban lighting. Its LED can regulate the characteristics of diversified colors, so that the Sky Tower's light changes between light green and light purple, while the top of the tower emits silver and white glow, becoming a famous landmark in Tokyo.

In addition to LEDs, the slim, flexible, close-to-the-sun OLED lighting of this seminar's main axis continues to be regarded as the next generation of lighting stars. ITRI ​​and the Lighting Association jointly created the "Theme Museum of OLED Lighting" and exhibited 37 "OLED lighting fixtures at the 2015 Lighting Fair. This is the first commercial display of large-scale OLED in Taiwan. In addition to continuing research and development of LED technology, ITRI also promotes the complementary existence of LED and OLED.

Liu Junting emphasized that more than 90% of OLED lighting is the main body of the lamp, coupled with the flexibility and no heat problem, easy to directly integrate with the building materials, so that designers have more flexibility in the design to create more lighting Apply the situation. OLEDs and LEDs are complementary and both have their own advantages. LED is a point light source, lighting light concentration, more eye-catching when used in outdoor environments, suitable for local area lighting, advertising signs, traffic warning signs and other applications. The OLED is a planar light source, the light is soft, and people can use the naked eye to look directly at the light source without dazzling, suitable for indoor lighting. OLED lighting is expected to be the first to be used in the decorative lighting market.

The Institute of Industrial Science and Technology established the OLED Lighting Alliance in July 2014 to connect the upstream and downstream industrial chains, jointly investing in OLED lighting applications, developing key technologies such as light engines, equipment and materials, and building and verifying small-scale pilot production of OLED lighting. platform. The 37-inch light fixture exhibited at the OLED Lighting Theme Pavilion in 2015 provided ITRI with a light engine module for Yazhuang Lighting, Dafeng Lighting, Leiyee Enterprise, Kangerfu Lighting, Zhengfeng Optoelectronics, and Gateway. Home lighting industry products designed by the lighting industry.
SMD Piezoelectric Buzzers are generally smaller than pin type Piezoelectric Buzzers. They are optimized for small devices such as blood glucose meter, clinical/forehead thermometers, smart glasses, and portable terminals.
From product designing, purchasing and testing, every step is controlled strictly by our QC staffs in order to make sure the perfect quality of our products. Currently, over 70% products are exported to US. South East Asia and Europe.
Smd Piezo Buzzer,Piezo Passive Smd Buzzer,Portable Micro Alarm Buzzer,Passive Micro Smt Alarm Buzzer
Jiangsu Huawha Electronices Co.,Ltd , https://www.hnbuzzer.com