Don't forget that the beginning of the heart is consistent, Sharp pursues perfect quality
In recent years, the competition in the TV industry has become increasingly fierce and chaotic, from the original panel, the quality of the picture, to the current appearance, intelligence, and content. It is true that TV product lines and product functions have been enriched to some extent, but TV has been forgotten as the home entertainment center. The most basic and important thing is still picture quality.
Sharp believes that the picture quality of the TV includes five indicators: sharpness, contrast, image engine, color gamut, and brightness uniformity. Only these areas can make a qualitative change in image quality at the same time.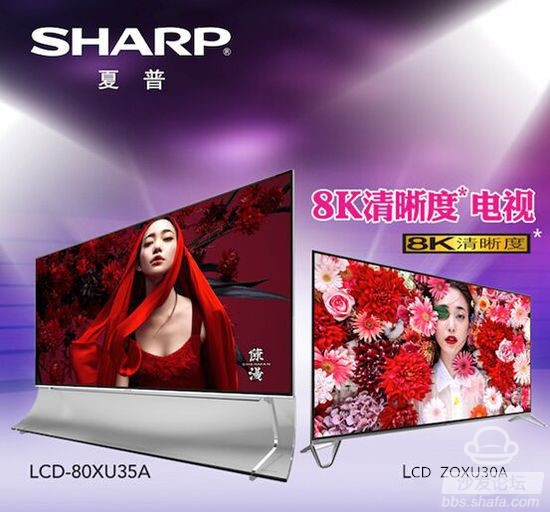 Therefore, when Sharp launches 8K resolution TV, it is not merely pursuing clarity, but it combines the technical means of various links such as color, contrast, and image engine, so that the final image quality can exceed that of the existing 4K TV. effect. According to Sharp engineers, when the picture reaches 8K resolution, the TV picture can be displayed close to the actual human eye.
Once again changing the industry, Sharp let the line of sight return to the nature of television
Based on Sharp's mature LED liquid crystal display technology, the two 8K resolution products have undergone major upgrades in the backlight and image engines. According to Sharp engineers, 8K sharpness products all use Sharp's "Next-Generation, Four-Color Technology" LCD panel. The unique pixel structure of "Red Green Blue and Yellow" makes the screen capable of displaying 8K sharpness. "X8-MEP professional image processing engine" can raise the input signal to 8K resolution to solve the problem that the current chip source quality is generally not high. K Sharp, wide color gamut, high-contrast performance, Japan's original LCD panel and other Sharp exclusive high-definition image processing technology in one, brings an excellent picture quality experience, so that people's attention back to the TV itself.
Calling for craftsmanship, 8K sharpness products reflect Sharp's 100 years of brand connotation
"Finely crafted and excelsior" is a reflection of the craftsman's spirit. Professional rigor and pursuit of perfection is also the source of energy that has been able to overcome all obstacles and innovate on the road of business growth for centuries.
As a century-old enterprise, Sharp has launched several television products from the initial radio, solar cells, and liquid crystal displays. Sharp is also in the LCD technology research and development, continuous innovation, excellence, and promoted the entire LCD industry and television industry, technological progress. Sharp's unique "Quattron" technology pushes TV picture quality to a new peak.
The launch of 8K sharpness products fully reflects the essence of Sharp's brand spirit for over 100 years, upholds the craftsman spirit, and once again leads the industry in product quality and technology. For centuries, Sharp's spirit of excellence and constant pursuit of breakthroughs is a dedicated force and a force for ultimate pursuit. Citing Sharp's comments from an e-commerce business executive at this year's Expo, "I'm not saying Sharp is leading the jump in display technology. Behind the technological progress is actually a spiritual force that goes beyond what we see and never stops. , leading the entire industry to move forward.
Non-Contact Infrared Forehead Electronic Thermometer Digital Thermometer Accurate and Fast Measurement with Three Color Backlight Display of Temperature Gun for Children Baby Adult Home Health Care
Name Infrared Thermometer
Temperature ℉/℃
Type Medical Device
Accuracy 0.2℃
Application Hospital, household
Measure Distance 3-5cm
Mode Human, object, room
Fever Alarm Yes
Color Display Green, Yellow, Red
Certificate CE, FDA
Infrared thermometer feature
1,Quick and Simple Operation: digital baby thermometer take temperature less than 1 second, one button design to measure ear, forehead, room, milk, water and object temperature. And toggle switch Celsius (℃) and Fahrenheit (℉).
3,Multiple Functions: Temporal thermometer comes with a fever alarm system, display green/orange/red to indicate fever (Green for normal, orange for light fever, red for high fever). 32 sets of memories and easy to recall. Auto shut-down and power saving.
4,Friendly Design: The body of no touch thermometer has a non-slip design, and LCD display is clear and easy to read, the display can be used at night without in the light
2,Reliable and Accurate: Our Forehead Thermometer comes with a German Hyman thermoelectric reactor infrared temperature sensor, build in ambient temperature compensation sensor, and a precision microprocessor. After thousands of clinical repeated tests, the measurement results are accurate ±0.2℃ (Ear / Forehead ).
Infrared Ear Thermometers IR988S
No Contact Thermometer,Forehead Thermometer,Ear Thermometer,Hospital and Medical Grade Infrared Digital Thermometer
Axiswell Technology Co., Ltd , https://www.medhealthycare.com