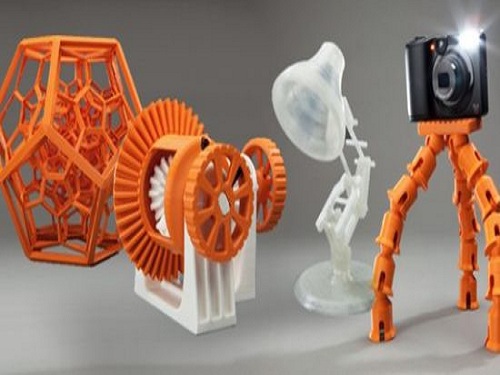 "From the perspective of the development of the international and domestic 3D printing market this year, it became clear that 3D printing has entered the fast lane and 3D printing has begun to rapidly change from the concept phase to the application phase." On the 2nd, when talking about the development status of China's 3D printing technology, Luo Jun, CEO of the 3D Printing Technology Industry Association in the world, told reporters that the application of 3D printing technology in various fields in China has been further accelerated this year. Among them, the performance in the education field is particularly prominent. According to his estimation, there are probably more than 1,000 schools to purchase in China this year. Desktop 3D printer.

"The widespread application of 3D printing in the field of education will benefit the cultivation of talents and promote the rapid development of 3D printing technology in China in the future," he said.

In the industrial field, 3D printing has also achieved faster market growth. Luo Jun estimates that the Chinese market is expected to sell at least 500 industrial 3D printers this year. In addition, with the international breakthrough in 3D printing technology in the medical field, the prospects for Chinese biomedical 3D printing are also very promising.

In February of this year, China's three ministries and commissions jointly formulated the "National Additive Manufacturing Industry Development Promotion Plan (2015-2016)", which for the first time included the 3D printing technology development plan at the national strategic level. Since then, China's top executives have mentioned 3D printing on multiple occasions. At the end of August, Premier Li Keqiang pointed out that 3D printing is a representative disruptive technology in the manufacturing industry. It has realized a major shift in manufacturing from the same material, material reduction, and material addition. It has changed the concept and model of traditional manufacturing and has significant value. .

At the press conference held on the 2nd, Luo Jun announced that the 4th World 3D Printing Technology Industry Conference and Expo will be held from May 31st to June 2nd 2016 at the Shanghai Pudong Expo Exhibition Center. The exhibition will attract worldwide visitors. Nearly 200 3D printing companies exhibited. The World 3D Printing Technology Conference, which has been successfully held for three times, has now become the "vane guide" for leading the development of China's 3D printing industry.
We'd love to create a bespoke Neon LED Sign just for you!

Our signs are made to order. We can create anything your heart desires! Weddings, events, business signs, in your home - big, small - we can make it a reality!
Flex LED neon sign is made of flexible silicon tubes with LED lights inside tubes look like vintage glass neon sign. Flex LED neon sign is safe, non-frangible. It's better choice for text and logo. LED neon sign is recommended for wedding, event, party, makeup, tattoo, bar, coffee, business store & home decoration etc. It's hand crafted artist.
Sign features:
1. Brand LED strip and power adapter with certificate.
2. Safe materials to use in baby Room.
3. Come with 200cm clear(silver) cord.
4. Installation accessories included.
5. Come with suitable plug and adapter for your country.
6. Arrive safe warranty. Come in hard box.
7. Very easy installation!
8. 1 year warranty.

All of our Led Neon Signs supported customize. Please contact us before order!!!!!!!!!!!!

Neon Wedding Sign, Neon Party Sign, Neon Wedding Light
Shenzhen Oleda Technology Co.,Ltd , https://www.baiyangsign.com