Housing Material:
Aluminum
Color:
White/Black Green/Blue
Material:
Aluminum+Toughened Glass
Transport Package:
Standard Package
1000W High Power COB LED Grow Light Hydroponics Vegetables Full Spectrum Plant Grow Light


What Is An LED Grow Light?
 
LED grow lights are the most recent mass produced lamp on the market, although many people have not begun using them yet. Since the tiny LEDs might not be the first thing that you think of when you picture an indoor grow op, that is understandable. In reality, however, they truly are some of the most powerful, effective, and space saving grow lights that you are going to come across throughout your growing career.
 
LED lights have a long history of use in a variety of applications. Since they began being used as nothing more than indicator lights on electronics, LEDs have found a larger and larger role in the modern world.
 
For indoor growers, these are very appealing. Before LED lamps were as advanced as they are today, the primary application for growers was in the form of supplementary lighting. AÂ grower might use an HID grow light setup throughout the different stages of growth. For plants that need extra light, or for more power during flowering, they would add in LED panels in specific places since they are so easily attached without taking up space. Now, however, there are powerful, and much larger, LED panels that can supply an entire grow room with bright light that keeps your plants healthy and profitable.
 
Other lighting systems require large ballasts and cooling systems, but LED lights are entirely self contained. A panel, that may be in the shape of a circle, square, or plenty more, is simply hung above your plants. The size of your grow will determine how large it will be, but they will all be lined with rows and rows of tiny LEDs.
 
Picure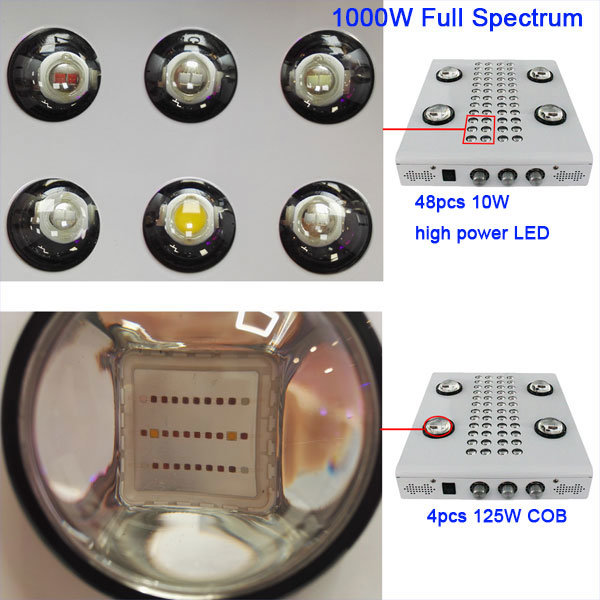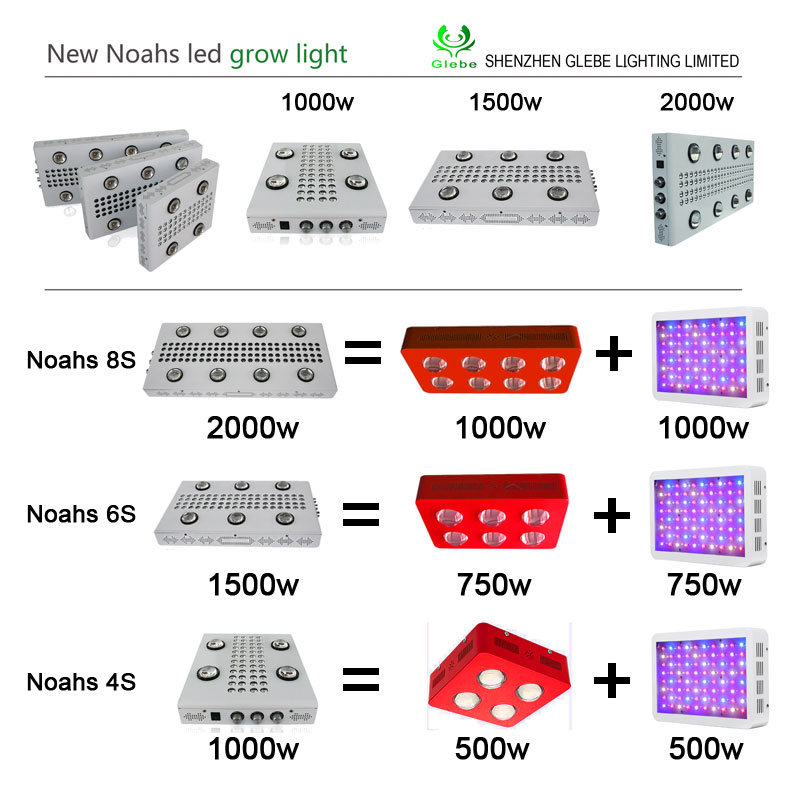 Save 50% cost

Data
Item
Value 4S
Value 6S
Value 8S
Power Consumption
1000W
1500W
2000W
LED
4pcs 125W integrated and 48pcs 10W high power LED
6pcs 125W integrated and 72pcs 10W high power LED
8pcs 125W integrated and 96pcs 10W high power LED
Temperature
-20~40 °C
-20~40 °C
-20~40 °C
Storage condition
-35~80 °C
-35~80 °C
-35~80 °C
Work frequency
50/60Hz
50/60Hz
50/60Hz
Voltage
AC85-265V
AC85-265V
AC85-265V
Lighting time per day
12-18 Hours
12-18 Hours
12-18 Hours
Height above the Plant
0.3M/0.6M/0.9M/1.2M
0.3M/0.6M/0.9M/1.2M
0.3M/0.6M/0.9M/1.2M
Lux (centre)
29921,0.3M/9612,0.6M
9015,0.9M/3396,1.2M
42894,0.3M/22401,0.6M
10638,0.9M/7606,1.2M
56712,0.3M/43789,0.6M
25220,0.9M/15890,1.2M
Wavelength Angle of leds
Red: Blue: Orange:White:
UV:IR 90°-120°
Red: Blue: Orange:White:
UV:IR 90°-120°
Red: Blue: Orange:White:
UV:IR 90°-120°
Size
468X385X118mm
660X385X118mm
848X385X118mm
Lumen
10150Lm
15400Lm
21050Lm
Life time
50,000hours
50,000hours
50,000hours
Input current
3.3A~1.6A
5.2A~2.5A
7.0A~3.3A
Lighting Area
1.5m²
2.5m²
3.5m²
Packing Dimension
61X49X22cm/PCS
80X49X22cm/PCS
100X49X22cm/PCS
Color
White/black/green/blue
White/black/green/blue
White/black/green/blue
NW
8.0kg/pcs
11.4kg/pcs
14.8kg/pcs
GW
10.6kg/pcs
15.0kg/pcs
19.0kg/pcs
Test report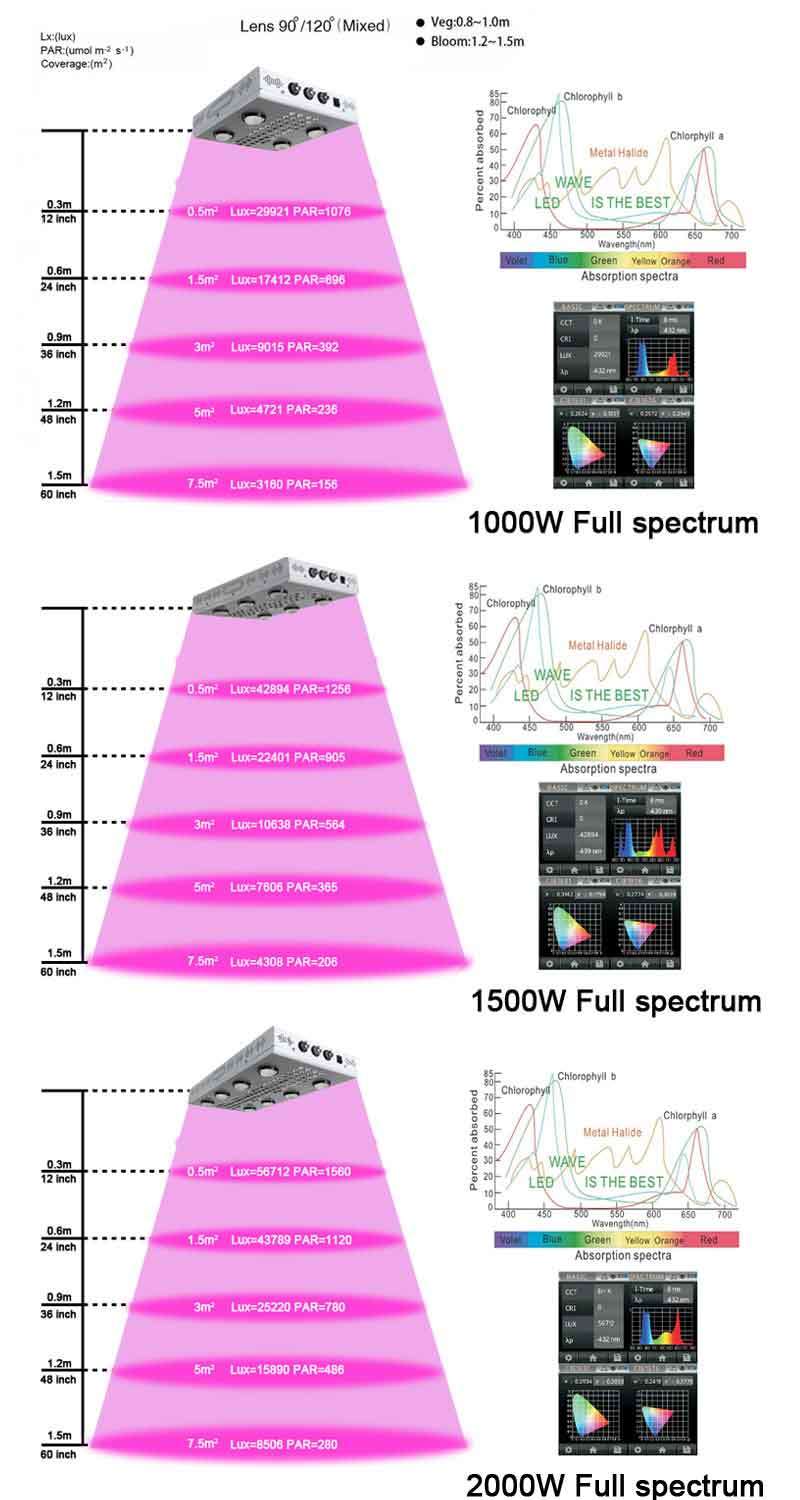 Details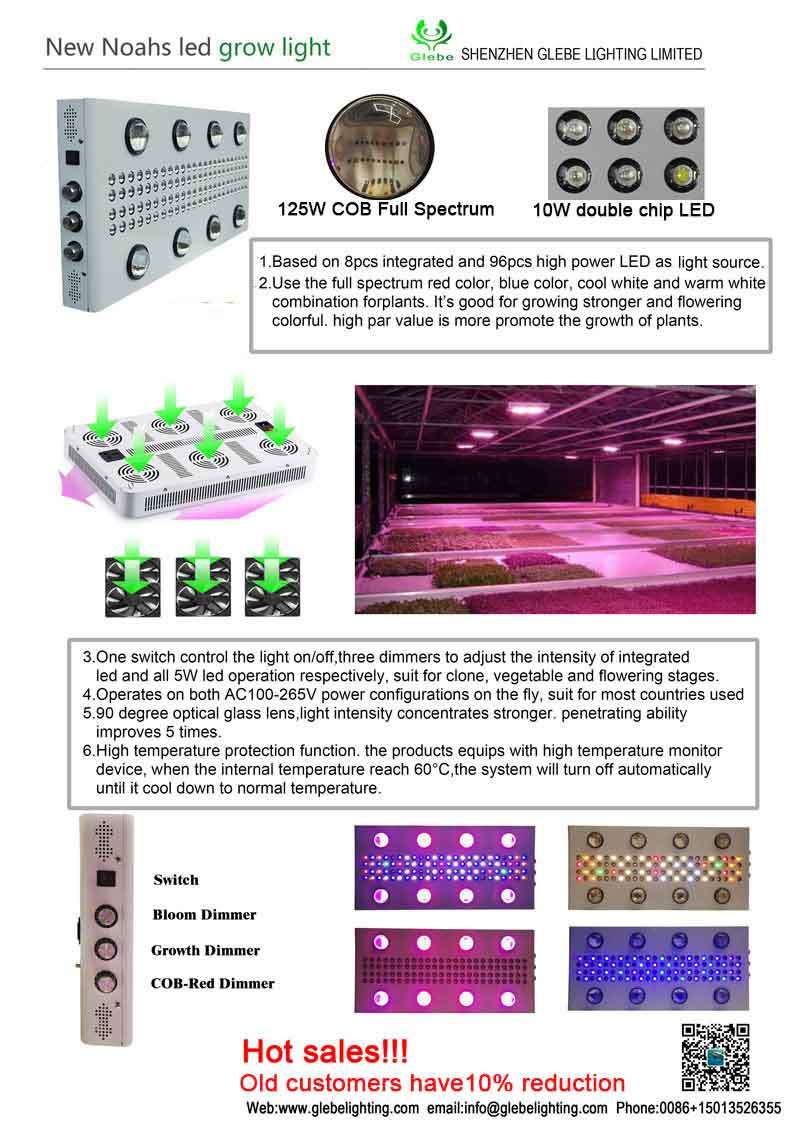 Application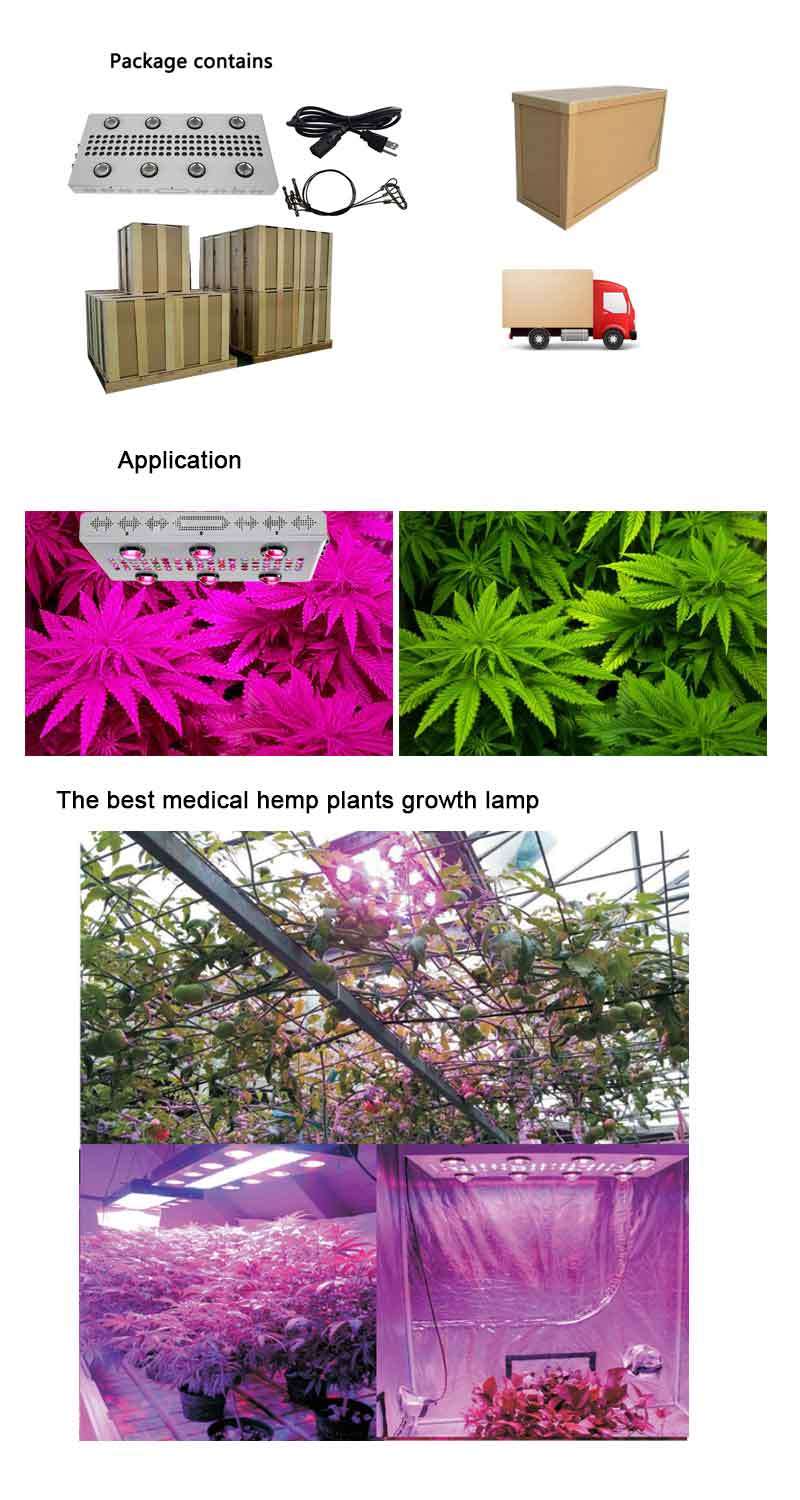 Our company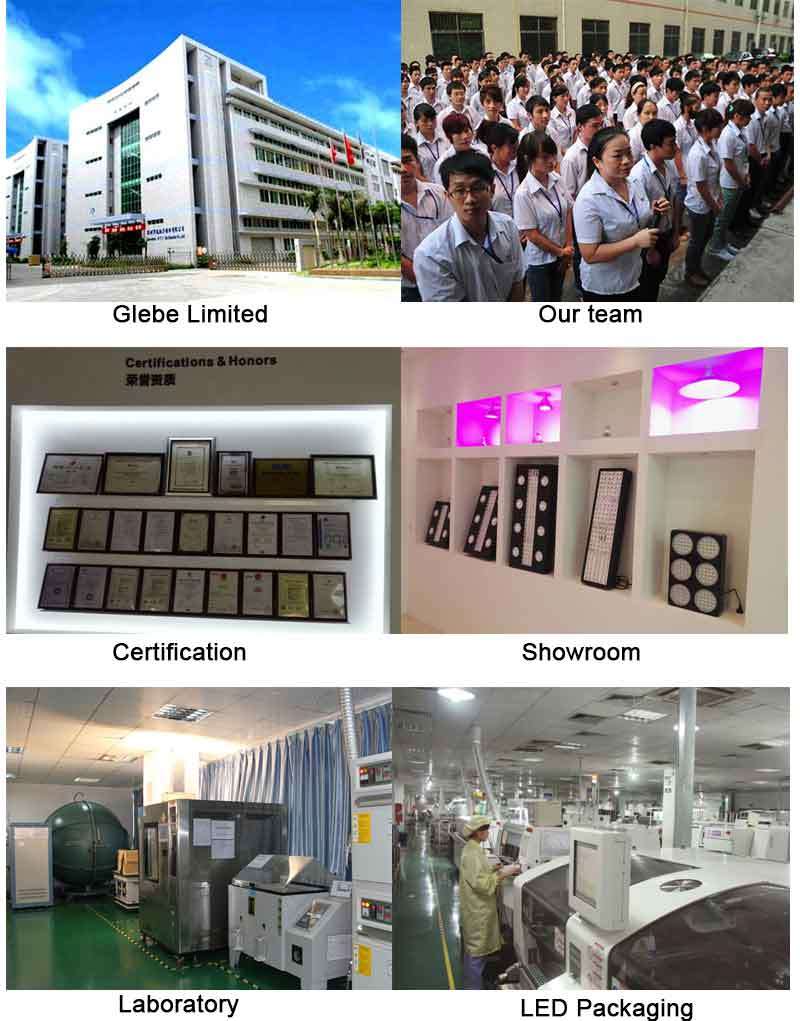 How Do LED Grow Lights Work?
 
LED grow lights function by sending an electric current through a semiconductor material. This in turn excites the electrons that create a powerful light from a very small bulb. By using different materials for the semiconductor, it is possible to create LED diodes with different wavelengths of light. This makes them capable of giving your indoor plants exactly what they need for each stage of growth. How those are used will be covered further down.
 
What You Should Know About Watts
 
It is important to note that the Watts that are listed on your product might not be exactly what you are expecting. Even though there might be one watt measurement listed on the lamp, you need to know the amount of watts that the grow light will actually use inside of your operation.
 
For example, if you have a 1000 watt grow light unit according to the manufacturer, that is the maximum possible amount of power that it will be capable of using. If you do push that amount of power to the lamp, you will likely cause heat problems and actually shorten the life of the LEDs. With that being said, the same 1000 watt grow light could be marketed as anywhere from 300 watts to 1000 watts.
Look at the actual power consumption, rather than the rating that the manufacturer gives you.
 
What You Should Know About Light Wavelengths
 
The LED grow lights that you use inside of your grow will have to feed your plants the light that they need. You see, in the natural world they would be receiving sunlight that that features light from the entire range of light wavelengths. This ranges from Ultraviolet light, that humans can't see, to infrared, which is also invisible to humans. In between, there is violet, blue, green, yellow, orange, and red. Depending on the kind of growing and the cycle you are in, different portions of the spectrum will be important to you.
 
 
What Are Full Spectrum LED Grow Lights?
 
Plants growing in the great outdoors have a number of benefits over plants that are grown inside. Primarily, they have the benefit of sunlight that offers the entire spectrum of visible light. In order to be able to provide your plants with everything they need, including light for both vegetative and flowering growth, you will need a full spectrum LED grow light.
 
HPS and fluorescent grow lamps have been used for many years when it comes to indoor growing. Many people still swear by them. There is a great advantage to having the very powerful light that they produce, which includes rays from all over the spectrum, although that comes at a cost. In exchange, people have turned to LED lighting, but many neglect to still make use of the full spectrum that is necessary for growing plants through a natural life cycle.
 
Many people make the mistake of only using one kind of LED grow light. That simply can't provide your plants with what they need for both stages of growth. A full spectrum LED grow light, in comparison, will provide a wide range of blue, red, white, and ultraviolet light.
 
There is a lot that goes into full spectrum LED grow lights, including different ratios of the different colors that your plants need, but we will look at that next. Understanding what each kind of LED has to offer will allow you to truly take charge of your grow and ensure you have better results than ever.
 
Mobile:+86-15013526355Â Â Â Â 
 
     http://www.glebelighting.com/
 
Bolted Silo,Grain Dryer Co., Ltd. , http://www.nsgraindryer.com